Advanced Operations
Injecting Alerts into the broadcast chain
Every station is setup different with several ways to inject audio and visual alerts into the broadcast chain. CAP-CP alerts may be issued from the standalone alert player and put into the broadcast chain each with their own merits.
Audio
When an alert is received, audio is sent out for your systems to receive in several ways. Generally there is no audio present unless a message is being issued; either a valid Pelmorex CAP message, Pelmorex test message or when a internal test alert is issued.
• Onboard analog stereo 1/8" mini output using Realtek ALC888S codec. Audio present only when a valid CAP message is being broadcast.
• GPIO trigger reverses DTR voltage on pin 4 using RS232 DB9 when CAP message is played to switch an External relay.
• Using BARIX exstreamer at transmitter to listen to a prioity port of incoming stream of CAP message
• Configuring ICECAST server to detect new mount point of on demand stream
• Silence Detection using external third party hardware used to sense audio coming out of the Alert Player and mechanically switch a relay on your board.
• Windows playout machine may use free Silence Detection software from Pira CZ Silence Detector to switch broadcast audio source when CAP message is played.
• Intergrating to AXIA Digital AOIP Consoles to sense an on demand Livewire stream of CAP message in conjunction with the Qor's GPIO to switch channels on the console while EAS is in progress and switch back.
Visual
Applicable for; over the air TV, Cable TV and digital signage applications. Normal visual content will be displayed. When there is a valid CAP alert, a red scrolling overlay will display the text of this message with accompanying audio of the alert.
• Onboard local video with (HDMI\DSUB) where an overlay will be displayed when a valid CAP message is being broadcast.
• GPIO trigger on pin 4 using RS232 DB9 when CAP message is played to switch CATV channel on digital cable head end.
• Configuring ICECAST server to detect new mount point of on demand stream
Please Share your experience and innovative solutions not listed here for injecting alerts.
Reimaging the Player
To restore the original factory configuration, obtain the disk image for your Player from your [Open Broadcaster Downloads] (https://openbroadcaster.com/account/user-downloads) user account.
Use UNETBOOTIN or similar utility to create a bootable USB drive (min. 4Gb) from the disk image.

Insert the USB drive into the OBPlayer, and power up the unit. The imaging process will start auotmatically. A progress bar will display. Be patient at 88% for a few minutes, it really is copying data. Observe activity on USB boot device.

When the process has completed, remove the USB drive and reboot.
Recording FM Transmission
Most radio stations have a requirement from regulators to maintain off air recordings. An easy way to accomplish this is the use the audio playlog feature of Player
Alert Player users are able to record and capture off-air audio logs that can be used for CRTC logging purposes or reused as a podcast. An example would be to use the onboard "line-in" of sound card, plug a FM tuner monitoring you stations signal. Pulse must be the audio mode for your system.
1) Enable Audio Logging from the sources tab.
2) Select Input source to record.

3) Tell Gstreamer what Source to record from. Go to command line of local box and type pulsemixer Select the Input source, press enter to select as default.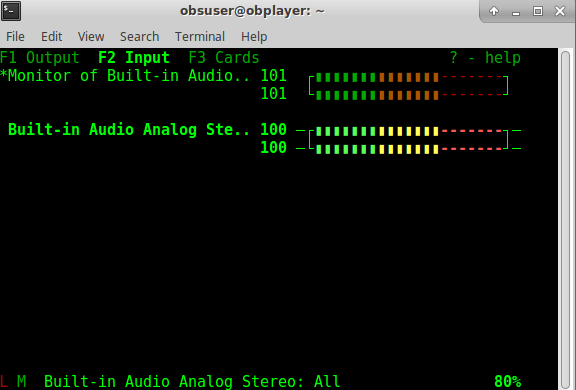 Audio logs will be automatically created in one hour segments. To access these audio files, click the Downloads button on the Status tab from the player's dashboard.
Monitoring FM Transmission
An inexpensive FM signal monitoring solution can be acheived using SDR (software defined radio) and a DVB-T USB Tuner based on the Realtek RTL2832U chip. Some clever reverse-engineering exposed the capability of these dongles as FM receivers.
The example below uses a software defined radio (SDR) receiver and a NooElec NESDR Nano RTL2832U receiver.
In order to use the USB DVB-T dongle, you first need to install the rtl-sdr software:
sudo apt-get install rtl-sdr

The dvb_usb_rtl28xxu driver (for enabling TV reception), distributed with newer version of linux, gets loaded by default. Therefore, the driver must be unloaded for SDR to work, each time the dongle is inserted.
sudo rmmod dvb_usb_rtl_28xxu

To prevent the default dvb_usb driver from being loaded on reboot, it can be blacklisted. Create the file (use sudo) in /etc/modprobe.d/blacklist-rtl.conf, add the following line :
blacklist dvb_usb_rtl28xxu

Now you can check if your USB device can be detected. Insert the USB dongle, and use the rtl command line utilities:
The FM reception may be streamed over TCP to allow remote monitoring of the broadcast signal, using the rtl_tcp utility, where host_ip is the IP address of the host:
For example rtl_tcp -a 10.0.0.106
You should now be able to use SDR to remotely monitor the stream over the network, using gqrx for example.
sudo apt-get install gqrx-sdr

Launch the program with the command:
The first window to appear is for configuring the input source and audio output. Set the Device option to 'Other' and type 'rtl_tcp=host_ip:1234' into the Device String (host_ip is the IP address used in the previous step).
Activate gqrx by clicking on the grey start/stop button just below the File menu. Noise should be heard from your speaker or head-phones, if not, check your audio volume control.
To tune the received frequency move the mouse pointer on any of the frequency digits and use the mouse wheel to change it. Alternatively you can move the pointer and click on the upper or lower part of any digit or use the Up/Down key to change it.