Initial Setup
Provisioning Server
Upload and add sample media.
New Play List will create a Play List. Call it DPL (Default Play List). Drag media items from sidebar to the new Play List. Save.
Create a new player from Admin>Player Manager. Enter in everything but leave IP blank. Save. Take note of the newly created Player ID.
Drag DPL into the newly created player. Save. It will use this in a loop in the event that nothing is scheduled (for initial testing). When the remote player connects, you will see the times for media and schedules.
Once testing is complete with DPL, schedule PlayLists and Media.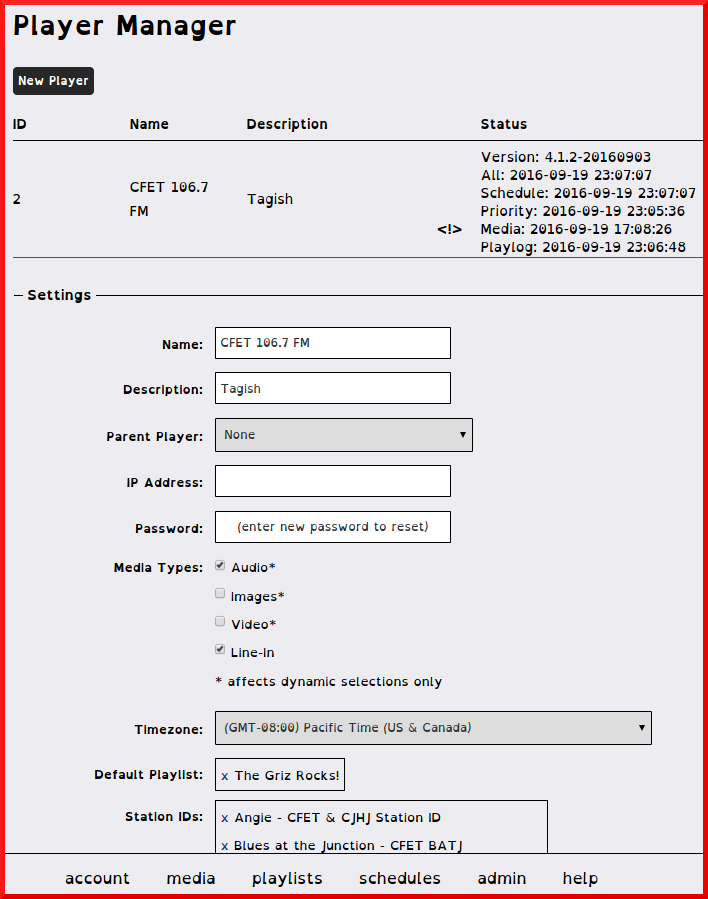 Provisioning Player
Go into player dashboard, Sync Tab.
Enter in the device ID and the password you set for this player in New Player.
For the sync URL field
http://IP_OF_YOUR_SERVER/remote.php

Use Remote mode for testing. Save.
Restart Player app. Dashboard will take you back to Status page.
Blue sync Message
Gold for warnings
Green connection messages
Magenta connecting to NAAD Alerts feed and when playing an alert
Orange while downloading media
Finally observe now playing message of current media item.
You will be able to hear audio coming out of Pulse Audio (used as default)
LIVE Assist
Mobile HTML5 Interface of OBPlayer
Accessed at IP and Port
http://IP_of_the_OBPlayer_at_Studio:23456

Screen Elements
Hot Buttons
Created in Server as PL (consisting of media items to appear as buttons) and dragged to bottom of LA Play List. Each PL added creates a column of buttons in LA interface.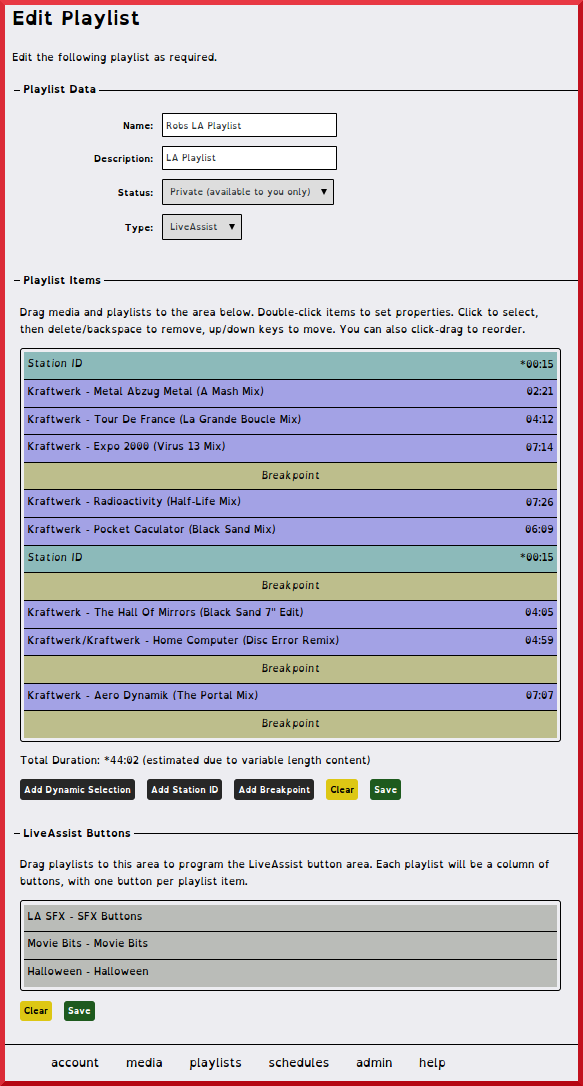 Station Line In
Grey system button (Top Right) Line In audio source is local input on the player computer at the studio. It is not a remote connection. In the case of station with a soundcard, the digital satellite feed goes into that input. Works in conjunction with Line In scheduling feature feature on the server, where you can schedule line in content such as mixing board or satellite receiver. This is the exact some input that's connected to the line in button on the live assist.
Remote RTP Incoming
Grey system button (Top Right) Remote RTP when clicked allows playing of live streaming media. Use local_streamer tool to receive incoming streams from laptop in field. On remote laptop, audio is encoded from source material, either from local media or from captured LIVE material.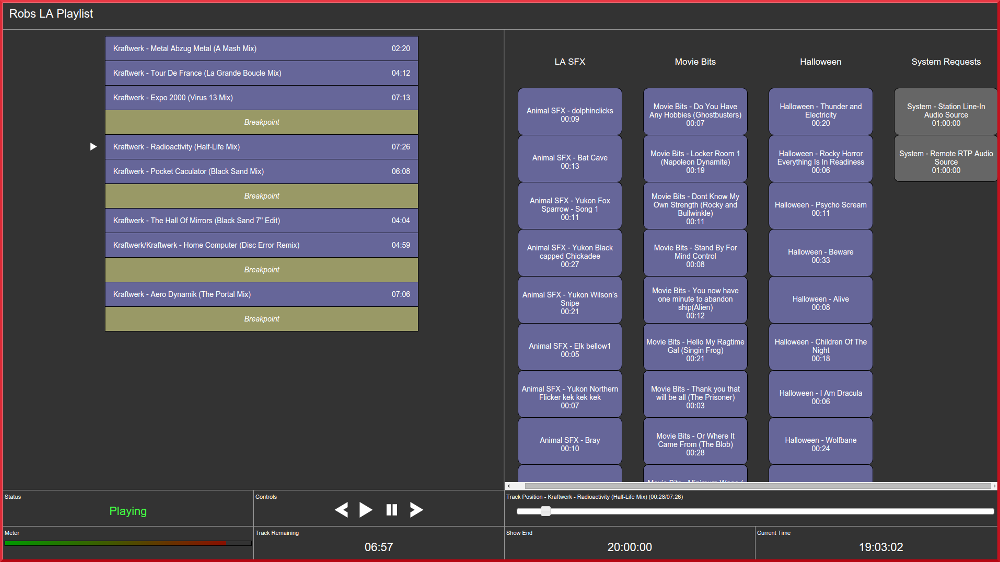 Live Streaming from LA Laptop
Install OBPlayer on laptop and make sure dependencies are met

Open up Pulse Audio Advanced Mixer

Configure IceCast server to accept source from OBPlayer's streaming tab

Open Terminal, test and run command to start the Local Streamer application
cd /opt/obplayer/tools

/opt/obplayer/tools/local_streamer --IP <IP-of_the_remote_obplayer> -h 

Use with -h (Help) to list optional commands
System Buttons
Local Streamer is a RTP sender application. It sends audio packets over UDP from the laptop on which it is run to the player computer. Run the local streamer application and the pavucontrol program on the laptop from which you're sending. Clicking the start button on the local streamer, will add an entry on the Recording tab of the volume control. Select additional USB audio adaptors in Pulse Audio volume control Configuration.
Launcher
Right click on desktop to Create Launcher (shortcut named LIVE Mic) using this sample info below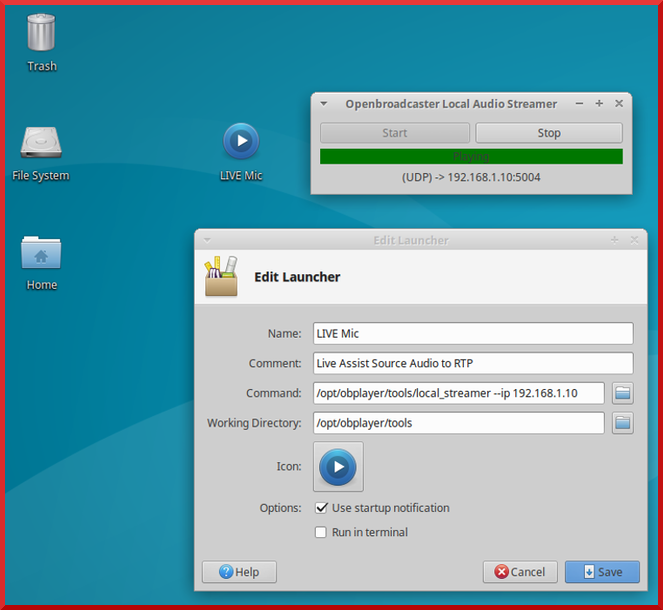 With the proper options set, this will create a floating window with Start and Stop buttons to turn on live streaming
Using Live Streaming
Create and schedule a LA play list on server
Click Streamer Launcher button to begin Live streaming source material from your laptop
On the LA interface click only the RTP button on the live assist. This will accept the incoming stream from laptop. A triangle > will appear next to the RTP button, count down timer will appear below and the VU meter in the lower left corner will show a signal levels present.
Future
On the LA interface, From top right drop down menu, Select, Microphone, Monitor or currently playing material or Mic and Monitor so that you can talk over the media playing.
Connect\Disconnect buttons turn on\off the live mic\monitor.
You can now begin speaking into mic and set the level. You may also toggle MUTE.
When finished show, click Disconnect on LA and Stop on the floating window
Drupal Radio Modules
There are 3 modules available for Drupal 7 CMS.
API Bridge - Takes info from the backend of an OBServer and presents this for display on a front end Drupal site. Includes information that can be placed in a block; What's playing, What played the last 24 hours and What has recently been uploaded.
Media Player - Provides a HTML5 embedded streaming player that plays the stream of your station without needing any additional plugins. It displays current Name of show, Artist and song title.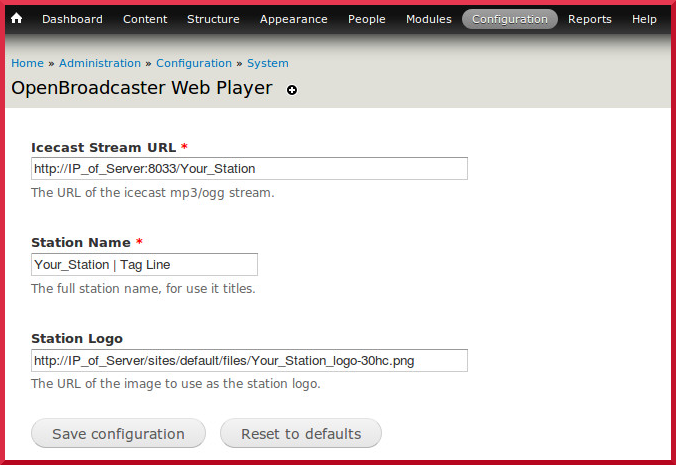 Schedule - Automatically updates the OBServer schedule information, links to DJ profile and associates show graphic.

Media (under development) - Provides a download link for Podcast assembler media items.