Getting-Started
BEFORE YOU BEGIN
Applies to supported hardware appliances 4X - 5X series; Media Player, Alert Player and OpenBox. Open Box installation contains both OBServer and OBPlayer components of the OpenBroadcaster framework as a stand alone applicance.
1. Connect the components
Setup the computer with a mouse, keyboard and monitor (HDMI or DSUB).
Connect power, preferably to a battery UPS to maintain up time during power failure (unit draws only 20W).
Plug in headphones or speakers to green audio output.
Connect RJ45 to a network with a router handing out DHCP IP addresses.
2. Boot the computer.
3. Change the default system user password
On the initial run of machines with pre-installed versions of OpenBroadcaster, the user is forced to change the factory default password. Once the password has been set, the user account will login automatically.
Enter the default password 'obsuser' (twice to re-enter the password), followed by a new password (you will have to re-enter the new password).
Passwords must be a minimum of 8 characters and contain at least two of the following character types:
Lowercase Alphabetical (a, b, c, etc.)
Uppercase Alphabetical (A, B, C, etc.)
Numerics (0, 1, 2, etc.)
Special Characters (@, %, !, etc.)
If you forget or lose the password, you'll need to reimage the unit and start over. Be sure to record the password in a safe place.
4. Change the default Dashbord password
Change the default (admin/admin) user and password for the Player dashboard. Save and restart for passwords to take a effect. A RED screen will notifiy default passwords are still being used (security risk).
Software Updates
REMEMBER TO CHECK FOR UPDATES BEFORE INITIAL SETUP, AND PRIOR TO REPORTING ISSUES TO ENSURE THE MOST CURRENT VERSION IS RUNNING.
Updating the software ensures the most current version of the application is running. To obtain and install updates, click the Update button in the dashboard Admin menu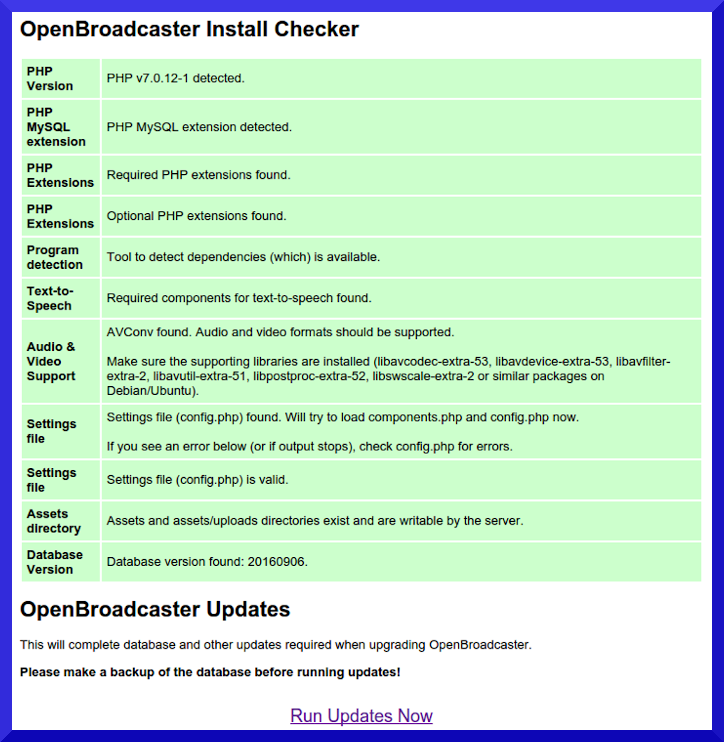 NOTE: Utilities for displaying current version and updating the Player are on the Admin Page of the Dashboard.
After updating the Player, restart the Player to the load changes to the Dashboard layout.